This is one bandwagon I'm not entirely sure I want to jump on.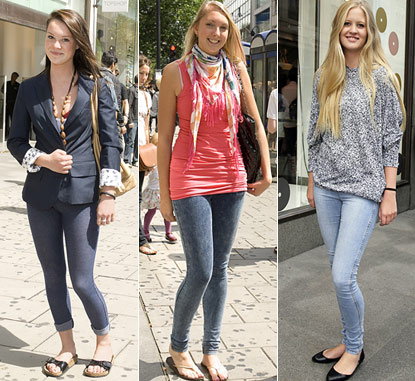 In case you've been living under a rock, in a cave, on Mars, etc., you've heard of one of this summer's fashion phenomenons - the bastard child of leggings and jeans. Essentially, they are just stretchy skinny jeans.
I don't really get the point. I *will* give props to
Lane Bryant
for having these available in plus sizes while they are actually still on trend. The problem? Plus size girls really don't look good in them unless they are going under something and not worn solely as pants. They simply aren't very flattering to our figures. (Yes, I definitely am including myself in this.) If you plan to wear them, you might want to stick to the darker shades, as they have a camouflaging effect. But, to each her own, I suppose.
That said, I do wear leggings. Usually only under skirts or dresses, but I do admittedly wear them, so who knows. The jury is out. I don't violently hate them, but I am not overly enthused by them either. Why you don't just wear skinny jeans if you like the look is beyond me... Comfort, maybe? But it's rare that fashion loves a trend that's based on comfort alone.
I don't know. I'm just a bit baffled by the whole thing, I think.